Treatment for Scoliosis in Asheville, NC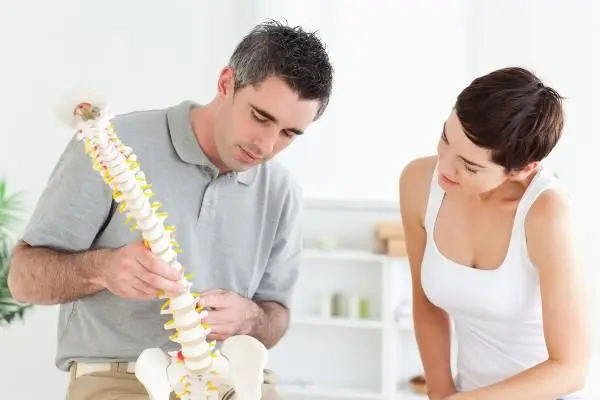 Lawson Chiropractic serves Asheville, NC and the surrounding neighborhoods with treatments for scoliosis. If you are searching for a chiropractor to help with your scoliosis, let us meet with you to discuss our chiropractic care options. Scoliosis is one of those conditions that will not go away without proper treatment. Regardless of how you try on your own to maintain good posture, the "S" curve of a spine afflicted with scoliosis continues to remain out of alignment and may lead to future health concerns.
Scoliosis is an abnormal spinal curve that typically is found in children. Most often it is discovered with an x-ray, but parents or physicians may notice an uneven shoulder, hip, or muscular development. When your child bends to touch his or her toes, you may see a sideways slant so it looks as if one side of his or her back is higher than the other. Often, scoliosis is noticed during a routine physical examination for athletic participation. In the past, a back brace was worn to correct the curved spine, and this still may be recommended in severe cases, but our Lawson Chiropractic clinic in Asheville offers an alternative to back braces. Chiropractic adjustments gently manipulate the spine into a healthy alignment. We also strive to retrain the muscles to support a straight spine and reduce discomforts that are a result of scoliosis.
If your child is experiencing neck or back pain or you are noticing uneven hips, shoulders or ribs that are sticking out more on one side, call us so we can evaluate his or her condition and develop a personal chiropractic treatment program. If left unresolved, scoliosis can lead to greater concerns as your child ages such as an increase in back pain, which may limit physical activity. He or she may also experience breathing difficulties as the uneven rib cage may press against the heart and lungs. Our staff at Lawson Chiropractic in Asheville has the tools to stop the progression of scoliosis or help to reverse the condition. This care plan requires dedication on your part, but we strive to make convenient and affordable appointments. Our gentle, non-invasive techniques are the best choice for use on children who are dealing with scoliosis. Instead of scheduling surgery, our weekly spinal adjustments alleviate the pressure on the muscles and nerves, which reduces pain and helps to increase blood flow throughout the body. The spine then strives to maintain a healthy alignment and our chiropractors gently nudge the vertebrae into position.
We pair our adjustments with at-home modifications such as placing computer monitors at appropriate levels and better sleeping positions. Lawson Chiropractic in Asheville desires to be a part of your child's health care village to help overcome the discomfort and health-reducing effects of scoliosis. Through weekly sessions, we can help you and your child be more active and pain free. Scoliosis does not have to control your life. We can make a difference. Please call us today at 828-274-8880 to schedule your child's initial evaluation.