Lawson Chiropractic Offers Physiotherapy Services in Asheville, NC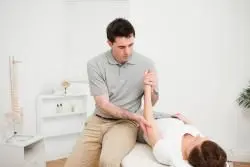 Our Asheville chiropractic team recommends using our physiotherapy services to support your back and neck. Physiotherapy care also provides a whole-body approach to care for your health. Whether you are experiencing pain due to a recent injury, or if you have a long-term condition that requires treatment, our physiotherapists can offer a personalized care program for you. We help reduce inflammation and swelling to aid in the healing process. Combining physiotherapy with our chiropractic service will work wonderfully to support your adjustments and proper posture
Physiotherapy Techniques
Physiotherapy is a health care approach that uses various techniques to reduce pain, improve the functional fitness of the body and also aid in its recovery. We provide the following care:
Muscle stimulation to improve healing
Ultrasound to promote circulation
Intersegmental Traction to reduce discomfort
Ice therapy to lessen swelling
Heat therapy to boost healing
Therapeutic Laser to accelerate tissue regeneration
These specific treatment options are available to help reduce swelling and pain which allow for healing. When left uncared for, pain and swelling can slow down your ability to heal. Our physiotherapists not only perform treatments to help your body heal as fast as possible, but we also leave you with valuable information to use long after your treatment ends. We teach you exercises to perform at-home and suggest ways to lay out your workstation to avoid a relapse. We identify ways in which you are performing repetitive motions which can also lead to discomfort and pain.
Physiotherapy Benefits
Lawson Chiropractic is proud to offer physiotherapy services to support your chiropractic care program. Our team's hands-on approach to your wellness supports the healthy changes you are making. Whether you've recently experienced an accident or injury, or suffer from years of poor posture, our physiotherapists are here for you at any stage of life to keep you on a healthy path. Our physiotherapy team helps you maintain your body for optimum sport performance and can increase your range of motion. Physiotherapy keeps you flexible and mobile to perform your daily tasks and can even help you age with ease, as a lack of mobility will often affect the body as it ages. Our therapists offer exercise advice and are more than happy to guide you through each step while you are attending your session.
Returning to Work
If you are suffering from a work-related injury or an accident has prevented you from returning to your career, our physiotherapists will develop a unique plan of action to restore your body to peak condition. You do not have to remain in discomfort or refrain from performing the work that you enjoy.
Call us today to meet with our chiropractors and physiotherapists for a thorough evaluation and a discussion of your treatment plan. We invite the communities of Asheville to contact us at 828-274-8880. We look forward to providing you a gentle and natural treatment plan soon!