Spinal Adjustments in Asheville, North Carolina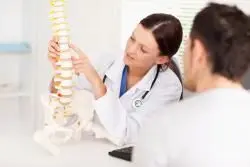 At Lawson Chiropractic, we offer a variety of ways to reduce pain, improve function, and restore alignment in your spine. If you suffer from chronic back pain because of an injury or condition that affects your spine, you may benefit from a spinal adjustment treatment.
Your spinal column is composed of 24 vertebrae and small discs which cushion each of these bones. If your vertebrae don't align properly or you suffer from a slipped or herniated disc, we use three different techniques to improve your alignment. Our Asheville chiropractors use the following chiropractic techniques to provide spinal adjustments:
Thompson Technique
Also called the Palmer-Thompson Technique, this chiropractic treatment method takes advantage of the power of motion. Your chiropractor will apply a thrust to specific parts of the tissue padding your spine, in order to correct joint abnormalities, vertebral subluxations, and other spinal problems.
When your chiropractor uses the Thompson Technique to perform your spinal adjustment, you lie face-down on a drop table that was designed with a specific incline. Because it follows the natural direction of your spine's joints, the table makes it easier for your chiropractor to return vertebrae to their proper places.
Gonstead Technique
This hands-on chiropractic method was developed more than a century ago, and it focuses on misalignments and conditions that affect the nervous system. A diagnostic radiograph allows your chiropractor to determine the amount of leveling necessary to restore complete function and reduce pain in your spinal column.
When your chiropractor applies the Gonstead Technique, they refer to the radiograph and para-skin temperature assessments to diagnose each abnormality in your tissue, bones, skin, and discs. If your posture is affected by misaligned veterbrae, your joints are inflamed, or you have lesions that affect your posture or gait, the Gonstead Technique may allow your chiropractor to assess your entire musculoskeletal system.
The Gonstead Technique requires precise thrusts to the locations that are affected by your spinal problem. We may also use a variety of other tools and adjustment equipment to target the source of your pain or lack of mobility. The ultimate goal is to align your pelvis, legs, and vertebrae so that you no longer experience any inflammation, pain, or discomfort.
Activator Technique
There are actually a variety of Activator spinal adjustment methods, but they all rely on a chiropractic device called an activator, which delivers fast but gentle clicks to the affected parts of your body. This handheld instrument contains a spring that creates impulses along specific points, too quickly to trigger muscle tension and localized enough to prevent harmful amounts of torque.
The Activator Method also takes leg length into account. Your chiropractor may take measurements of each leg in order to evaluate the location of misaligned vertebrae.
Our Lawson Chiropractic team in Asheville performs spinal adjustments that restore health and alignment to your spinal column. Call us at 828-274-8880 to learn more about our spinal adjustment services or schedule your appointment today.