Orthotics Evaluation in Asheville, NC
When you have pain, muscle tightness, or reduced mobility in your feet, then you may experience a limited range of motion, chronic muscle pain, and even low back pain all because of leg and foot problems. Custom orthotics can help you alleviate this pain and improve your quality of life. At Lawson Chiropractic, we offer 3-D orthotic evaluations and prescribe orthotic footwear. Learn more about our services.
3-D Orthotic Evaluations From Lawson Chiropractic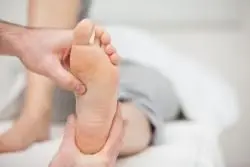 Our chiropractic care team in Asheville provides a full range of treatments for inflammation and mobility issues including foot pain. We have all the latest equipment at our facility to offer 3-D orthotic evaluations. We understand that the biomechanical feedback loop between legs, ankles, knees, and hips are complex and that an orthotic device needs to be custom made to help heal pain.
To that end, we are able to use advanced 3-D imaging techniques to really show your range of motion, mobility, posture, and more. We will evaluate the alignment, inflammation, and mobility of your ankle, knee, and hip to determine your flexibility and range of motion. Our extensive training and sophisticated fitting techniques allow us to equip you with an orthotics device that will really help you reduce pain and increase mobility because it is molded to your foot. We have the training, equipment, and knowledge to effectively treat foot pain.
Combining 3-D imaging with basic information about your height, weight, lifestyle, degree of swelling, and more, we will recommend one or more types of orthotics for you. We can explain the "pros and cons" of each device in plain English, so you can make the right choice for your circumstances. Then we'll create the device for you, fit you, and get you set up for orthotics treatment.
Lawson Chiropractic Treats Foot Pain in Asheville, NC
At our chiropractic clinic, we offer treatment for foot pain and plantar fasciitis, an inflammation of the heel tissue that causes sharp pain. If you live in pain, and let your foot pain reduce your mobility and quality of life, we can help with custom orthotics.
When you receive orthotic footwear at our chiropractors' office, your journey toward better health and wellness will begin. Along the way, we will continue to monitor your body to make sure that the orthotic equipment you have is right for your needs. As your body changes, we will update your treatment to ensure you get the most out of your custom orthotic. We will also show you at-home strengthening or stretching exercises you can do to support your treatment. We will do everything we can to reduce levels of pain and inflammation, restore mobility, and help you heal.
Would you like to schedule an appointment for an orthotics evaluation, or for any of our other services? If so, please contact us at 828-274-8880 or fill out the appointment form on our website and we can gladly schedule you for an appointment at your earliest convenience. We look forward to helping you in any way we can!